This tincture is powerful, which means you can decide what kind of effects you want to get based on how much you take.
Note: One full dropper = 2 mL
1. Chill mode ❄️ (half a dropper/1 mL): In lower doses, this tincture can be used the same way as any full-spectrum CBD tincture. The effects of the concentrated nutritional cannabinoids contained inside help support a state of calmness and relaxation. We use this mode to help ease discomfort and support general health and vitality.
2. Space mode ? (1–2 droppers/2–4 mL): In higher doses, the effects take more of a cerebral tone. This amount delivers 10 mg of THC and over 100 mg of CBD & CBG combined. At this dose, the UFO Tincture is better for unlocking your creative potential or vibing out to some good music.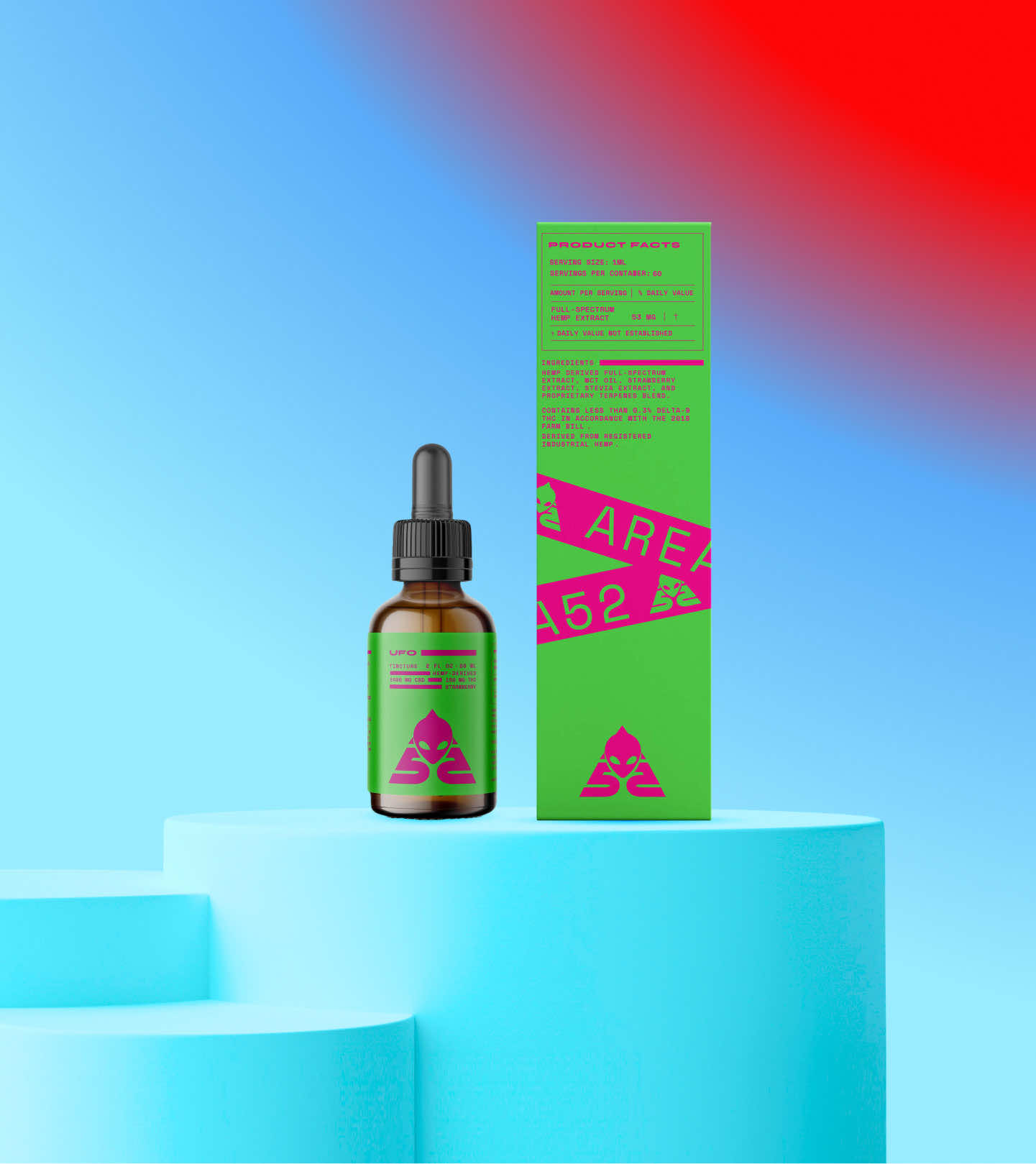 FULL-SPECTRUM CANNABINOIDS
Cannabis contains well over 100 individual cannabinoids. This tincture focuses on three in particular (CBD, CBG, and THC), but there are many others that serve a supporting role as well.
Full-spectrum refers to products that don't detract from the nuances hemp has to offer in its chemical makeup. Every ingredient, regardless of how diluted, plays a role in the greater effect profile.
This includes cannabinoids like CBC or CBN and terpenes such as limonene, humulene, and myrcene.
? This tincture is designed to amplify the natural synergy of the cannabis plant by standardizing the dose of the big three for more consistent effects — without disabling the trace cannabinoids, terpenes, and other phytochemicals that support everything from absorption to retention at the receptor site.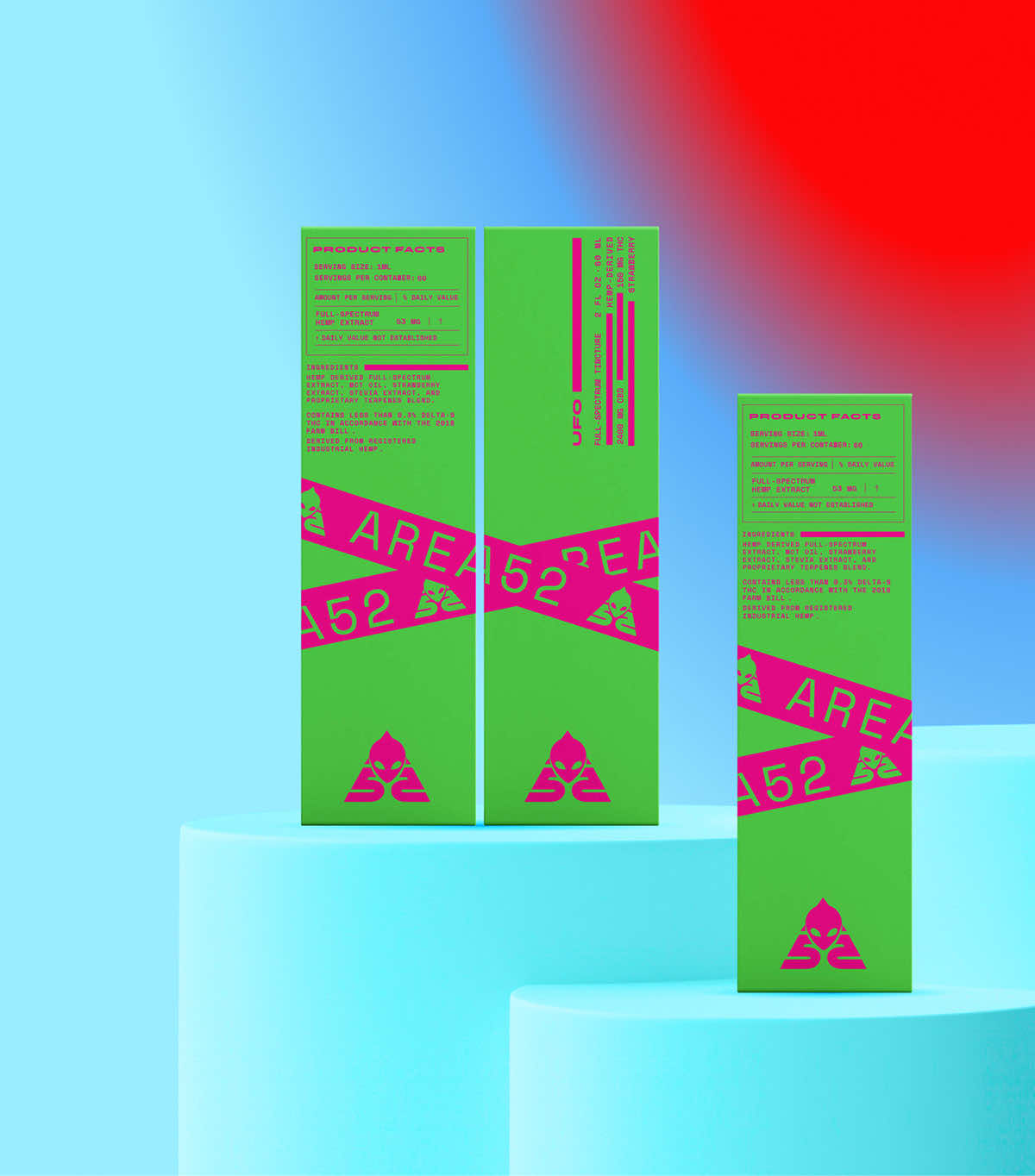 PRECAUTIONS & SAFETY
Don't take more than a recommended daily serving. Don't drive or operate any vehicle after taking this product.
Don't use these gummies if pregnant, nursing, or taking medications for a diagnosed medical condition.
Must be 21 years or older to purchase or use.
FULL-SPECTRUM UFO TINCTURE FAQS
How Do I Use The UFO Tincture?
The easiest way to use this tincture is to place half a dropper (1 serving) directly into the mouth and hold it under the tongue for a moment before swallowing. Holding the tincture under the tongue helps the tincture absorb faster but isn't completely necessary.
Alternatively, you can mix the tincture into a smoothie if you're not partial to the oily consistency.
Is the UFO Tincture Legal?
Yes, the Area 52 Full-Spectrum UFO Tincture is made entirely from federally-compliant industrial hemp and remains within the legal threshold of 0.3% delta 9 THC. This tincture is currently legal in all 50 states.
How Many Drops Should I Take?
A standard serving size is 30 drops of tincture. This is equivalent to 1 mL or exactly half a dropper.
If you're aiming for more of a cerebral effect, try doubling the dose to 60 drops (2 mL).
It's wise to start with a lower amount for the first time to see how this tincture affects you. Start with half a dropper, wait one hour, then take more if needed. Many of our customers report the optimal dose between 0.5 and 1.5 mL (15–75 drops).
Will This Tincture Make Me High?
While these tinctures remain within the limits of legal hemp extracts, they're very potent. If you take more than one serving, you're likely to experience some perceptive changes.
Will This Tincture Make Me Fail A Drug Test
Yes, there's a high chance you'll test positive for THC after using this tincture. Like any good full-spectrum tincture, THC is one of the many components contained inside. It's possible that even low concentrations will remain in the bloodstream for up to 30-days — which could cause you to fail a drug test.
Where Will Area 52 Ship?
Area 52 will ship the UFO Tincture to all 50 US states as it remains fully compliant with the 2018 Farm Bill.
With that said, it's important to read up on your local laws before placing an order. The legal climate around cannabis products changes all the time, and it's up to you to remain within the confines of your local law.