ALSO AVAILABLE IN YUMMY DELTA-8 GUMMY CUBES!
Delta 8 THC is incredible, but it's even better when it comes in the form of a sweet treat! That's exactly what you get with these delicious gummy cubes.
WHAT ARE DELTA 8 THC GUMMIES?
Delta 8 gummies (or D8 gummies) are tasty fruit snacks infused with the Delta 8 cannabinoid. This newly discovered, natural cannabinoid promotes homeostasis in your body the same way CBD does, except it can give you more bang for your buck.
Delta 8 products work twice as hard as any other CBD product to give you the benefits of euphoric sleep, relaxation, discomfort relief, and more. Even better, Delta 8 does all this without the negative side effects that Delta 9 THC can induce. Delta 9 THC is the primary compound in marijuana. It is responsible for the groggy "high" marijuana can cause. Delta 8 is more powerful than CBD but not quite as intense as Delta 9, so you shouldn't experience severe side effects such as paranoia.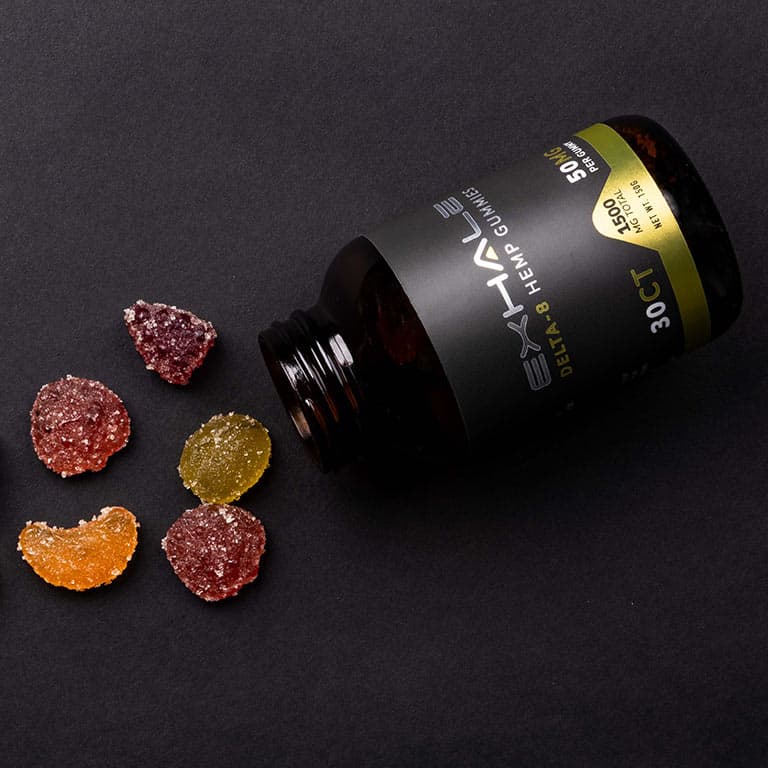 DOSING RECOMMENDATIONS FOR DELTA 8 GUMMIES
When trying Delta 8 THC for the first time, it is important to remember that it can affect people differently; what works for one person may not for another. Generally, we recommend starting with a lower dose and working your way up. And as always, it is best to consult a physician before trying any new wellness products, CBD included. Things that may affect your dosage amount are:
A basic guideline is to start with 5 – 15 mg of Delta 8 if you have a low tolerance or are just starting out. If the effects are not satisfactory at that level, you should increase the dosage to 15 – 45mg. Those with a high tolerance can try from 45 – 150 mg or more, if necessary.
Wondering how many Delta-8 THC gummies you should take or how many drops of oil is enough? Worried about taking too much and going a bit overboard? Take the quick quiz to find out how much is your perfect dose. Enter in your weight and age to get the exact amount that is right for you!
HOW MUCH DELTA-8 THC SHOULD I TAKE?
Take a quick quiz to find out.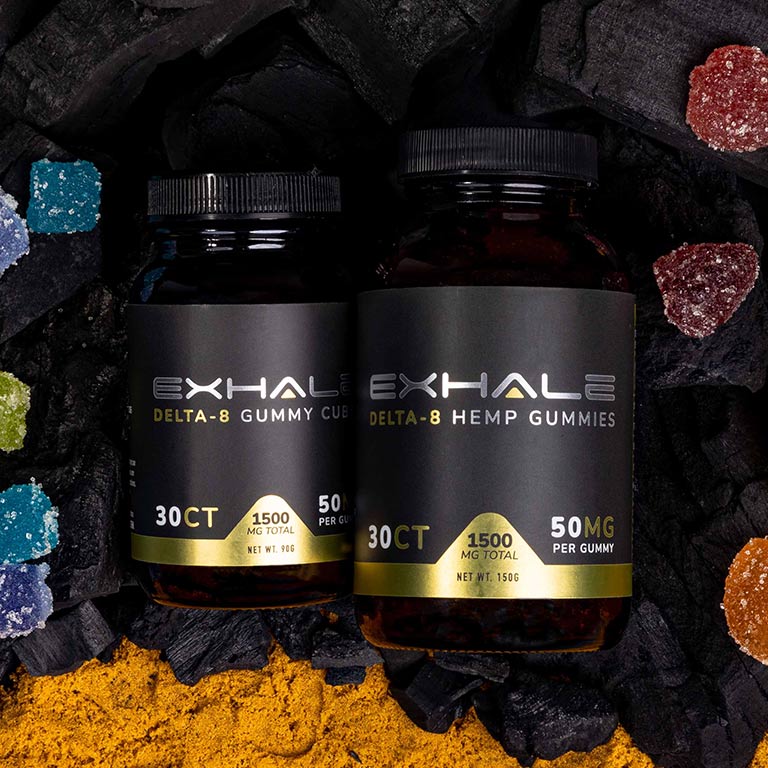 People who enjoy CBD and marijuana alike are familiar with the range of CBD edibles available on the market. These CBD-infused consumables come in many different forms and can help you with all kinds of things, from trouble focusing, to stomachaches, to general malaise. Thanks to modern cannabis research, edibles are now available in the form of Delta 8 gummies which have revolutionized the way you experience physical and mental wellness.
These small, potent treats have recently taken the cannabis market by storm as consumers reap the benefits of a new and improved version of regular CBD gummies. Keep reading to get the rundown on Delta 8 gummies and how they can help boost your quality of life.
Among all the options for Delta 8, gummies present a few advantages over other products.
CBD can have an earthy, bitter taste that may be unpleasant for some consumers. In the form of gummies, you can instead have a fruity selection of flavors that taste like juice or candy. And with Exhale Well's organic, dye-free ingredients, you can remain guilt-free eating these yummy treats.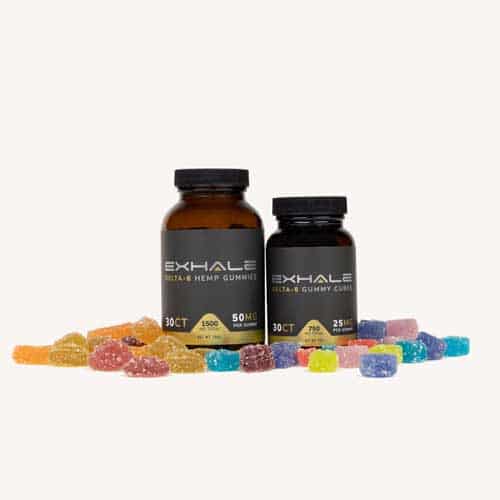 WHAT IS THE DIFFERENCE BETWEEN DELTA-8 CBD AND REGULAR CANNABIS
The cannabis plant contains many different cannabinoids that collectively create the genetic makeup of cannabis products, including marijuana. Cannabinol (CBD) and Delta 8 are two of these cannabinoids, and they are found in both cannabis and hemp-derived products. Hemp extracted CBD doesn't cause any euphoric or high effects, instead soothing your mind and body. Delta 8 does this as well, but with a greater experience of bliss and elation. But what about Delta 8 vs. Delta 9? Let's find out!
HOW TO CHOOSE THE BEST DELTA 8 GUMMIES
Trust the consumer! Companies will always tell you their products are the best on the market, but real stories from actual consumers will tell you the real story. Check out online reviews or ask people you know who have experience with a company's products. Are they mostly good or bad? Are the reviews biased or paid endorsements?
You should always look at a few websites or forums with reviews to get an idea of a brand's reliability. If several people on several websites review positively, it's likely a trustworthy source.
Certificates of Analysis (COA's)
HOW MUCH DELTA-8 SHOULD I TAKE?
Take a quick quiz to find out.
What Do Delta-8 Gummies Do?
When you take a delta-8 gummy, it acts like a receptors to produce the effects we have come to associate with delta-8 THC. Once you have chewed the gummy, it goes through your digestive system, where it gets absorbed into the bloodstream. Compared to other edibles, such as cookies, brownies, etc., delta-8 gummies usually kick in faster, as the delta-8 gets partially absorbed in your mouth while being chewed.
Once the delta-8 has been absorbed into your bloodstream, you will start feeling the effects, which consist of a number of beneficial properties.
Do Delta-8 Gummies Get You High?
Are Delta-8 Gummies Legit?
Are Delta-8 Edibles Potent?
Delta-8 edibles, such as gummies, are highly potent products. Not only do they contain a good amount of delta-8 THC (up to 50mg with Exhale Wellness' products), but they are more potent than other forms of taking delta-8, such as vaping or smoking.
This is because they have to pass through the digestive system first, where the delta-8 is then absorbed. This results in delayed effects, but once they kick in, they last a long time — up to eight hours in some cases.