Nature has a powerful propensity for healing. This is something that's been intuitive to humans for over a millennium. Now, more than ever, we need the help of natural ingredients to support and maintain our health before we get sick — rather than trying to patch everything back together after the damage has already been done.
The Area 52 Earth Immunity Gummies were formulated in response to new evidence that suggests two raw cannabinoids found in hemp offer direct improvements to our natural defenses. We've combined CBDA and CBGA with three other nutrients essential for maintaining immunity.
Zinc, vitamin C, and vitamin D are all critically important for maintaining our adaptive and innate immune responses.
 TAPPING INTO THE POTENTIAL OF RAW CANNABINOIDS
These Earth gummies are made using "raw cannabinoids" — which refers to the cannabinoids as they're found in nature (CBDA and CBGA). This means each gummy contains only trace amounts of the "cooked" forms — CBD and CBG.
Extracting raw cannabinoids isn't as easy as it sounds. If the extract is exposed to light, heat, or oxygen at any stage of production, the raw cannabinoids are converted to CBD and CBG instead. While most cannabinoids have an indirect benefit on immunity, it's the raw cannabinoids that are the true powerhouses in this respect.
Once extracted, we seal these cannabinoids in a chewy gummy base — protecting these vital ingredients from breaking down and significantly extending the effective shelf-life.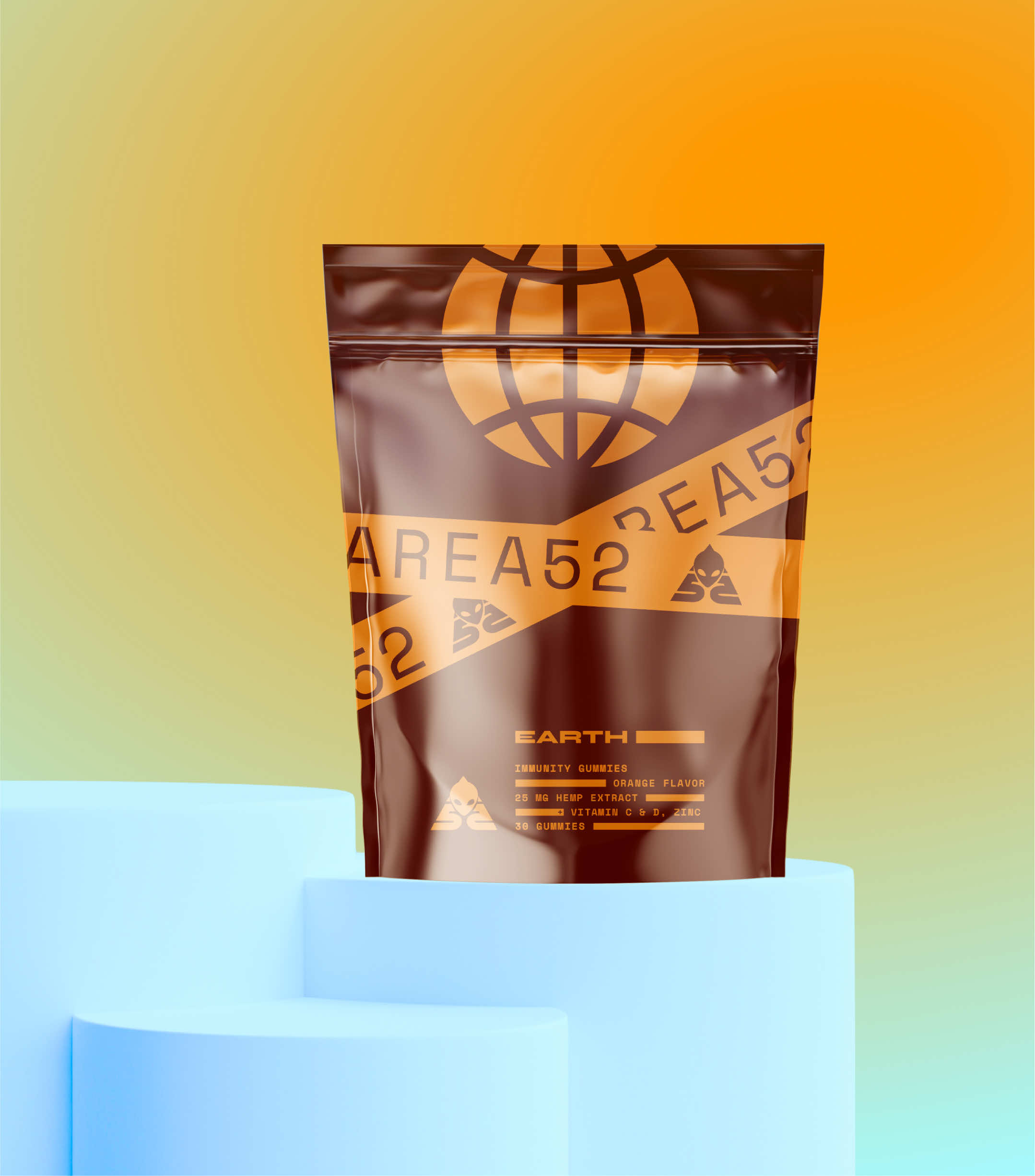 WHAT'S IN THE EARTH IMMUNITY GUMMIES?
The main ingredients in this blend are the raw cannabinoids CBDA and CBGA — but we've included three additional nutrients that are universally recognized as being "essential" for optimal immune function.
CBDA
CBDA (cannabidiolic acid) is the raw form of CBD found naturally in the cannabis plant. This cannabinoid functions very similarly to CBD and can be used for many of the same applications, but with one added benefit. Studies have shown that CBDA binds to the 5-HT1A serotonin receptors more strongly than CBD. These receptors are involved with vagal tone, which plays a key role in the regulation of the immune system.
CBGA
CBGA (cannabigerolic acid) is the raw form of CBG that serves as the precursor to all other cannabinoids, including CBD, CBC, THC, and CBN. This cannabinoid is believed to interact primarily with the PPAR receptors, which help regulate the development of key immune cells such as macrophages, T-cells, B-cells, and dendritic cells.
VITAMIN C
Vitamin C has a reputation for its ability to boost immunity. There are a few reasons for this. This essential vitamin protects the body from oxidative stress, facilitates cellular regeneration, and is even weaponized by certain types of immune cells to help destroy infectious pathogens.
VITAMIN D
Vitamin D is primarily involved with regulating calcium levels in the body, but also plays a key role in regulating the adaptive and innate immune responses. Recent studies show vitamin D is necessary for the activation of immune cells during an infection, as well as the inhibition of inflammatory reactions in the recovery stage of infection.
ZINC
Zinc is required for building key immune cells, including macrophages, natural killer cells, T-cells, B-cells, and much more. Without zinc, we wouldn't have the ability to produce these important cells that do all the heavy lifting in our immune system to fight infection and keep us safe. This essential mineral is quickly depleted while fighting infection as the body rushes to make as many important immune cells as possible.
 AREA 52 EARTH IMMUNITY GUMMIES FAQS
How Many Moon Calm Gummies Should I Take?
Each serving of the Area 52 Earth Immunity Gummies is one gummy. We recommend taking two gummies per day — once in the morning and another in the evening. Each gummy contains 10 mg CBGA, 10 mg CBDA, 25 mg vitamin C, 10 mcg vitamin D, and 5 mg zinc.
Are These Gummies Legal?
Yes, our Earth Immunity Gummies are derived from federally compliant hemp and contain well below the legal threshold for THC (0.3%). This means our gummies are legal in all 50 states.
Will The Moon Calm Gummies Make Me High?
No, these gummies are entirely non-psychoactive and non-drowsy. While these gummies may contain trace amounts of THC due to the raw, full-spectrum nature of our extracts, the concentration is far too low to have any noticeable impact on cognition and perception.
How Should I Store My Gummies?
For best results, keep these gummies in the package they arrive in and out of direct sunlight. Prolonged exposure to heat or light will cause the CBGA and CBDA to break down into CBG and CBD.
If you plan to store these gummies for longer than 6 months, ensure the bag is sealed and store in the fridge.
What Do The Earth Immunity Gummies Taste Like?
Our Earth Immune Gummies are available in orbital orange (citrus) flavor.
Are These Gummies Vegan-Friendly?
Yes! No animals were harmed in the making of these gummies. We use plant-based pectin instead of animal gelatin.