The moon has always been a symbol of enlightenment and illumination. Countless philosophers and scientists have made groundbreaking discoveries under the gentle glow of our one and only celestial satellite.
We believe that in order to succeed, one must remain calm, collected, and fearless.
These gummies are designed to relax the mind and help maintain a level-head — without the drowsiness often associated with high-potency hemp products.
The goal is to put an end to the stress-fuelled rumination and thought loops so you can tackle your problems head-on.
 CBD + CBC: CANNABINOID ADAPTOGENS
An adaptogen is considered to be any substance that supports natural resilience and enhances the capacity to resist both mental and physical stress.
CBD is well-known for its ability to help combat stress, but it isn't considered adaptogenic on its own. It works by targeting the endocannabinoid system (ECS), which is a regulatory system that keeps the nervous system balanced. This means CBD works best for mental stress but doesn't offer as much protection from physical stress.
CBC, the second most abundant cannabinoid in hemp, supports a related system called the TRP system. While the ECS balances nerve transmission, the TRP system controls our innate resilience to environmental stressors — such as exposure to heat or cold, UV radiation, and more.
Together, CBD and CBC offer stronger and more robust effects on buffering one's ability to resist both forms of stress — mental and physical.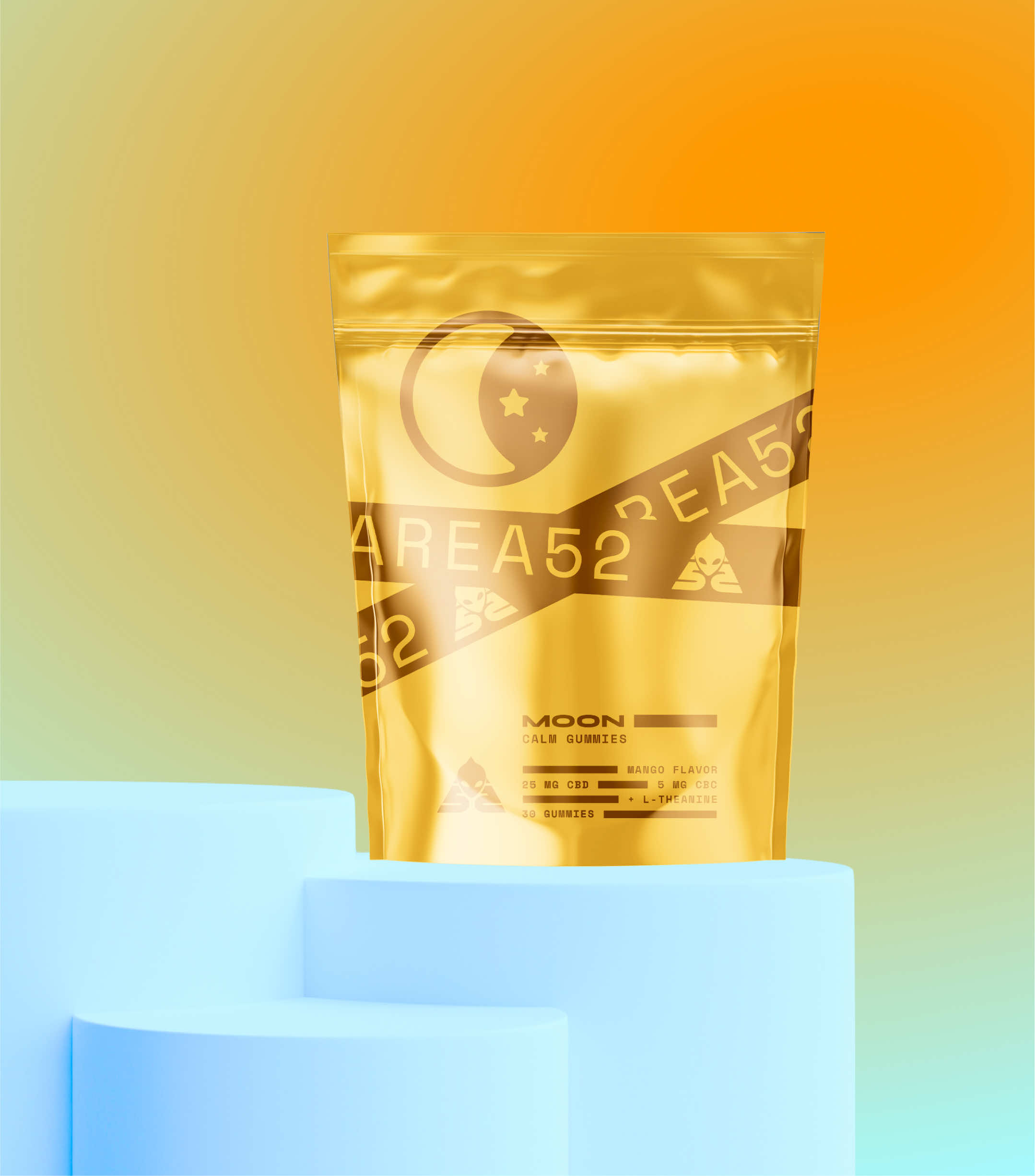 WHY CHOOSE AREA 52?
We're hyper-focused on bringing you innovative new plant-based supplements for the purpose of facilitating greater levels of mental and physical health.
We refuse to work with underpowered products — no exceptions. When you order from Area 52, we guarantee to deliver nothing but the upper echelon of products and conscious formulations.
We're so sure you'll love our products, we offer a 30-day money-back guarantee. If you don't like what you've ordered for any reason, ship at least half of it back for a full refund.
One full year on the moon is 27 Earth days.
Our moon is the fifth largest moon in the solar system; Ganymede (Jupiter) is the largest.
The moon plays a critical role in stabilizing Earth's wobble and keeping our seasons consistent.
In Greek mythology, the moon was personified as a goddess by the name of Selene — she had 50 daughters with the god Zeus.
The rotation of the moon is perfectly timed with Earth, so we never see its backside.
Experts believe the moon is made from pieces of Earth that broke off billions of years ago.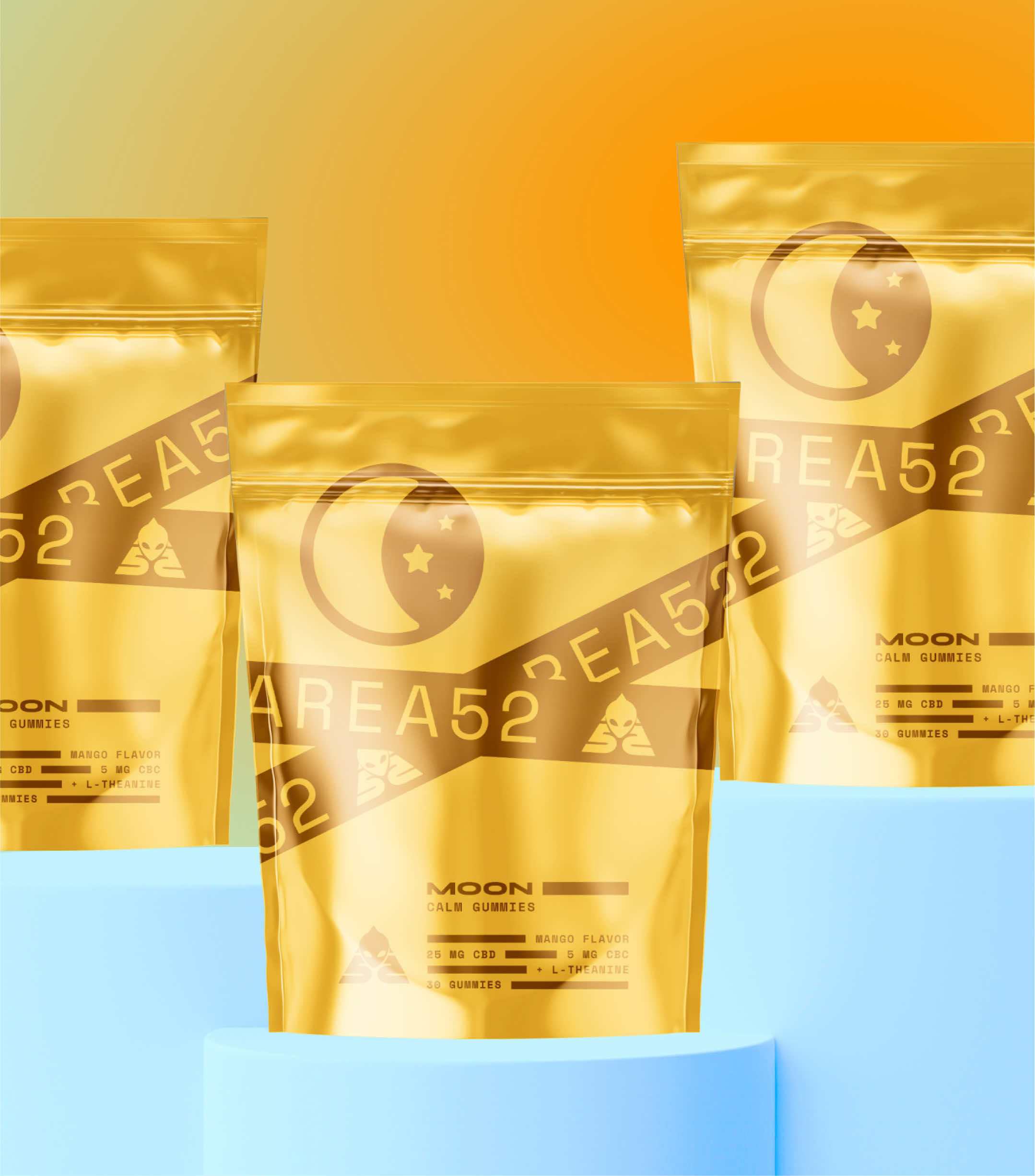 AREA 52 MOON CALM GUMMIES FAQS
How Many Moon Calm Gummies Should I Take?
Each gummy delivers a 30 mg dose of CBD and CBC (5:1 ratio). For most people, one gummy is more than enough.
Are These Gummies Legal?
Yes, our Moon Calm Gummies are made entirely from federally-compliant hemp. They're non-psychoactive and remain below the legal threshold of 0.3% THC.
Will The Moon Calm Gummies Make Me High?
No, these gummies are made entirely from CBD and CBC — neither of which have psychoactive properties.
How Should I Store My Gummies?
The best way to ensure your gummies stay fresh and potent is to keep them in the bag they arrived in. Always make sure the enclosure is sealed between uses and keep your gummies somewhere cool and away from sunlight.
If you plan on storing your gummies for more than a few months, we recommend keeping them in the fridge.
Is Cannabis an Adaptogen?
An adaptogen is defined as a herb that promotes the regulation of homeostasis and enhances one's resilience to stress. In order to classify as an adaptogen, the plant also has to be entirely non-toxic too.
Cannabis as a whole meets these criteria, and many experts consider it one of the most important and widespread adaptogenic plants on Earth.